ZRS Residential Announces National Partnership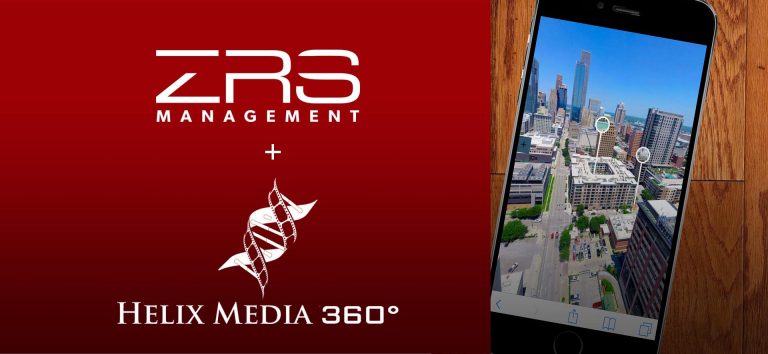 ZRS RESIDENTIAL ANNOUNCES NATIONAL PARTNERSHIP
ORLANDO, FLORIDA, June 4, 2018 — ZRS Management, LLC, announced a national partnership with Helix Media 360 to provide next-generation virtual tours for their high-end multifamily communities nationwide. This partnership ensures that all ZRS properties have access to state-of-the-art virtual tours that work with existing web sites and marketing efforts.
 "Helix Media has demonstrated their commitment to offering a fully customizable layout that offers a seamless user experience," said Marketing Director, Donald Kleckner. "Our team has worked very closely with theirs to setup proper tracking parameters to monitor the significant role that virtual tours play in the online apartment search process."
Helix Media is known for its powerful reporting tools that allow properties to accurately measure the effectiveness of marketing efforts and ensure return on investment.
"Tracking user engagement is a critical part of the services we provide," said Walter Phillips, President of Helix Media. "Unlike other providers in this space, our business model focuses on partnering with each client to create custom solutions, then tracking engagement over time. This way, we can work with our clients to make changes according to the results we are seeing. 360 Virtual Tours are a relatively new innovation, and we believe it is important to stick with our clients for the long-term."
Helix Tours include highly engaging content including embedded videos, 360 aerial drone views, and neighborhood views that provide 360 views of nearby attractions such as shopping centers, popular hang outs, and event venues. "Our customers appreciate the Neighborhood Views portion of our tours because potential tenants not only see where they're going to live, but also get a good look at the local community as well," said Phillips.
ZRS and Helix will begin offering tours in summer 2018.
About ZRS Management, LLC
ZRS is one of the most highly regarded management companies for luxury apartments in the United States and has grown from 775 employees with 33,000 units managed in 2016 (the 25th anniversary for the company), to over 940 employees and 41,000 apartment units managed nationwide in 2018.
Currently operating in six states and 10 submarkets, ZRS is headquartered in Orlando, Florida, and has regional offices in Ft. Lauderdale, Florida, and Dallas, Texas. For more information on ZRS's multifamily portfolio, visit http://zrsmanagement.com.
About Helix Media 360°, LLC
Helix Media is a leading supplier of custom-designed multifamily virtual tours in the United States. Filmed by professional photographers using the latest equipment and designed by experts who have years of web and graphic design experience, Helix Tours are the 360-virtual tour of choice for luxury multifamily communities. Helix Media is headquartered in Houston, Texas, and provides next-generation virtual services in all markets across the country. https://www.helixmedia360.com
https://helixmedia360.com/wp-content/uploads/2018/07/zrs-1.jpg
885
1920
Brandon Laubach
https://helixmedia360.com/wp-content/uploads/2018/03/Helix-Logo-Only.png
Brandon Laubach
2018-07-17 00:39:36
2018-10-24 13:10:55
ZRS Residential Announces National Partnership