Why wait to start marketing?
Showing your property during construction can present some logistical challenges. Brochures with flowery descriptions and 2D floorplans can only go so far. What if there were a way to let customers step into a space before it was completed, and even interact to build an attachment in the virtual realm?
Apartment hunters are stepping through custom 360 tours instead of driving back and forth across town. People are exploring their new condos, and even rearranging virtual furniture, all from their desktop or mobile computer. The technology to create an interactive, immersive and fully three dimensional model of a developing property is available to you now.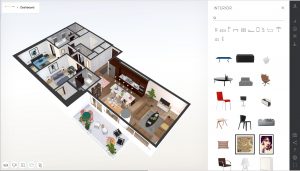 4
Choose from hundreds of 3D furniture & decor
Full Scale Virtual Reality Models
Businesses have been using pre-construction scale models to sell property for a long time. Never before has it been possible to build an accurate, full scale world and let prospective buyers step inside. Traditional renderings only show a static view of the property. Helix Media makes interactive 3D models that let customers visualize more possibilities.
Each model is custom built to scale, down to the square inch. You can customize finishes, flooring and other options. We provide detailed 3D furniture models which users can drag and drop into the floor plan. Customers have the ability to select an object in the model and click for more information, and they'll be directed to a website to buy that exact piece. This allows prospective customers to space plan and come to a purchasing decision even before stepping on site.
Helix Media offers these 3D models at a fraction of the cost compared to our competition. Traditional renderings can cost thousands of dollars, and they're no longer useful once a project is completed. Because our custom 3D models are interactive, adaptable and feature custom space planning, they retain their value after construction.
Fully interactive virtual tours are already driving pre-construction sales and rentals all across the country. It's no longer necessary to settle for 2D or scale model mock-ups. Helix media creates quality custom 360 tours to give your customers the full picture in advance.
Value-Added Philosophy
Helix Media is dedicated to creating custom solutions based on our client's individual needs. We take the time to fully understand your unique business goals and ensure your company's brand and message are properly reflected in Helix Media's content. Our number one goal with every project is to maximize ROI for our clients.